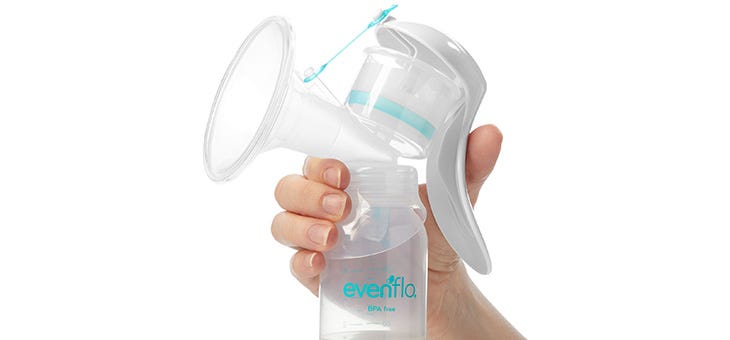 Are you a traveling mama? Or maybe you travel around town running errands for the family? Whatever the case may be, chances are if you are a mom, you are busy. Put breastfeeding on top of an already active lifestyle, and you are really busy!
The Manual breast pump — a busy mom's best friend
Whether you are a working mom or a stay at home mom, finding time to pump can be a real headache. Some moms have the luxury of getting a good thirty-minute break to pump alone, while others are forced to pump while they are scarfing down a quick lunch. The point is, we make it work! There are times when you just do not have time to set up and power your electric pump and need a quicker alternative. This is where a manual breast pump comes into play.
If you don't have one already, you will want to add a manual breast pump to your registry! If you are in the market for a manual pump, be sure to check out the Evenflo Manual Breast Pump. It is sure to meet all of your breast pumping expectations and more!
Perks of an Evenflo manual breast pump
Compared to an electric breast pump, the Evenflo Manual Breast is more convenient when you are on the go. Not only is it more lightweight and portable than your average electric breast pump, but it is also extremely comfortable and easy to use, thanks to Evenflo Feeding's MemoryFlex system and ergonomic handle. It also comes with 2 different flange sizes accommodating more moms everywhere.
Sick of washing all of those parts of your electric pump? After washing the tubing, the valves, bottles, and more, it can get tiring leaning over the sink repeatedly. Talk about dry, cracked hands! The good news is that the Evenflo Manual Breast Pump is only made up of 8 parts, which makes for a quick assembly time and even faster clean up.
Free breastfeeding classes
As if this pump could get any better, you will also get access to Evenflo Feeding's Simply Breastfeeding educational breastfeeding program. The courses were developed by Breastfeeding Expert, Shari Criso (IBCLC, CNM, RN) and can be utilized wherever, whenever. Also, their hand pump is super affordable and won't break the bank! It's very quiet too — no need to have to worry about waking baby in the middle of the night for a late night pumping session.
Benefits of a backup breast pump
If you're thinking, "I already have an electric pump. Why would I need a hand pump?" Well, ask yourself this question: "Do I have a backup plan if my electric pump breaks all of a sudden?" It can take days before receiving a replacement pump through your manufacturer's warranty. The Evenflo Manual Breast Pump is a great "backup" pump to have any hand in case an emergency happens and you're in a bind.
However, many moms find that hand pumps are quicker and may use it as their primary breast pump. Some mamas choose to manually pump one breast while nursing on the other. There are several ways to take advantage of the Evenflo Manual Breast pump... why not pick one up at our online store today? You won't regret it!