The BeliBea Nourish Bra is a must for nursing mamas! I thought I had the perfect hands-free bra for pumping, but boy was I wrong. Why buy a bra that you can only use for pumping, then another for nursing, when you can have one that works wonders for both? Not just that, BeliBra also makes a tight-fitting cami as well. The flexibility of the Belibea Nourish bra and cami is just what I needed, and I'm so in love!
Everyday Bra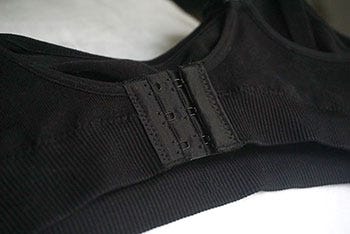 The BeliBea Nourish Bra is an amazing everyday nursing/pumping bra. It's not only comfortable and has a seamless stretch fit, it also has a v-neck scoop design with center ruching that allows it to have a feminine shape. The stretch fit is so crucial for nursing mamas because our breasts are continuously changing in size and we need a bra that can continue to be supportive and comfortable. There is also removable padding that is thick and wonderful for maintaining shape, and I absolutely love how the bra looks and feels under my clothes.
Hands-free Pumping
The BeliBea Nourish Bra is not only fantastic for pumping, but it's truly the most convenient. Gone are the days where you have to put on a separate hands-free bra every time you pump. The Belibea Nourish bra has two panels that are held up with two different snaps that make pumping a breeze. Un-snap the first panel and you have a horizontal opening that holds most breast shields for hands-free pumping.
If you don't feel like that position is comfortable enough, don't worry — there are two other ways to adjust the bra for a better or tighter fit. You can move the inside panel to the top snap instead of the bottom for a tighter fit, or wrap the outside panel around the breast shield and snap it on the top to hold your breast shield even more secure. Gotta love options!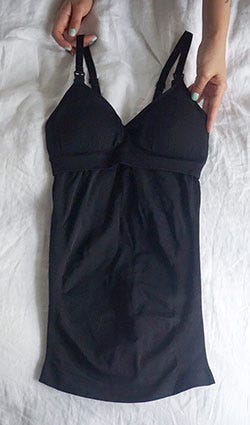 Nursing
The BeliBea Bra also allows you to nurse your baby anywhere with ease. You can nurse your baby with only the first panel down with the horizontal opening, or if you want to be more discreet, un-snap the second panel too and nurse your little one without any obstruction. I find that the best way is to un-do both of the panels and tuck them under your breast so it also helps lift the breast for your babe to latch easily.
Cami
Just when you thought this bra couldn't get any better, it also comes in a cami! You get all the great features of the bra but with added length. The BeliBea Nourish Cami is such a great addition to the normal bra because it allows you to pump or nurse with added tummy coverage. I love using it as a layering piece too because it has the same seamless stretch as the bra but with a long, tight, and comfortable fit to keep everything tucked in. I was also able to stretch the cami enough that it worked extremely well as a slip underneath my dresses.
Overall, the BeliBea Nourish Bra & Cami is just what us modern mamas have been waiting for. The flexible, sleek, multi-use design allows you to nurse, pump, and everything else in between with ease and comfort.
Nadia is a new mom and runs a blog, Wander & Dwell, featuring articles on motherhood and more. Being a modern mama herself she loves to share her experiences and tips on how to raise a kid in this new age. Find her on Instagram @wander_and_dwell.