What's the difference between Covered Goods and other nursing covers? Covered Goods nursing covers provide true all over coverage, front and back, that some other covers promise and don't deliver.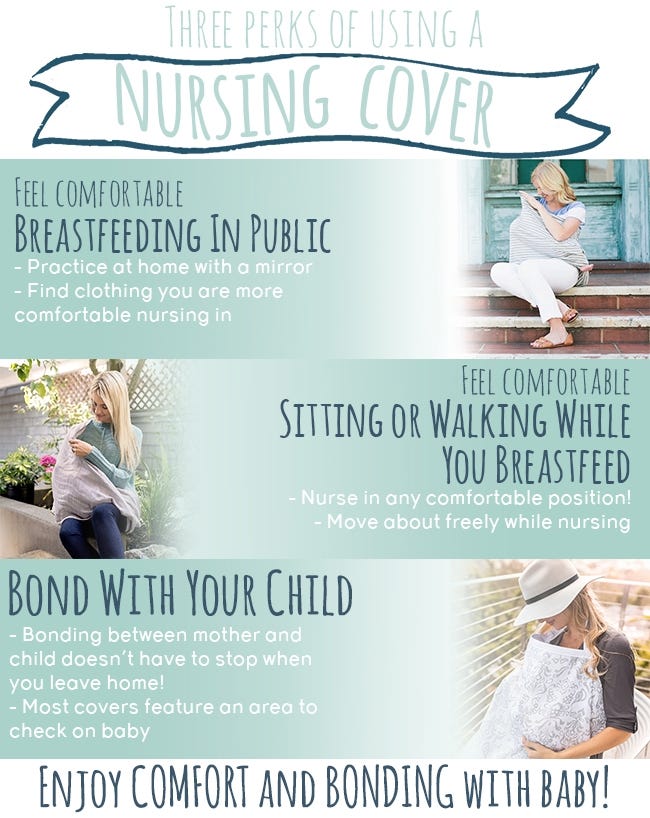 Comfy & flexible
The flexible neck allows mom to wear the cover under one shoulder, allowing them to check on baby while they nurse. While most others only cover your front and sides, you will never fear being exposed with these as they alleviate any worry that your baby will kick or pull your cover off as with traditional covers.
Covered Goods covers are multi-functional
These covers have multiple functions and can be used as a car seat cover, shopping cart barrier and an infinity scarf. Covered goods does not have any straps or rings to complicate putting on or taking off your cover. It's a simple, no-fuss design that is super easy for on-the-go moms to use.
The comfortable and stretchy material will allow plenty of movement done by baby or mom and will provide access at all times to check in on baby while they nurse. The covers also fold up very small for easy storage without any special instruction or worry of damage.
Designed for all moms
Made for all nursing moms, the cover is 64" inches in circumference at the bottom with a contoured neckline with plenty of give in the stretch for any mom. The fabric is made with a high quality rayon spandex blend. They are so soft and lightweight, yet not easy to see through with the perfect amount of stretch. They're easy to care for by machine washing cold and tumble dry on low heat.
All-in-one design for trendy mamas
This cover up is an all in one item, alleviating the need to purchase several other products, which saves all you busy mamas time and money!
Covered Goods nursing covers are available in the following styles:
Navy & Ivory Stripe
Black
Army
Camo Mismatch
Heather Grey
Grey & Ivory Pinstripe
Floral Mismatch
Black & Ivory Pinstripe
Navy Floral
Plaid
Pick up a Covered Goods nursing cover from our store today, and learn what all the hype is about! You can choose from so many styles — might as well grab a few different patterns while you're here!