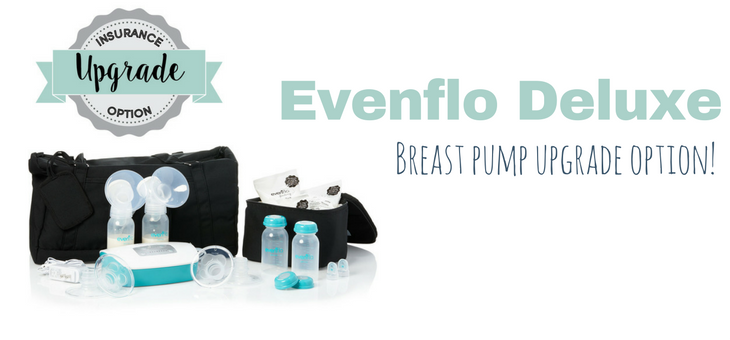 Shopping around on our site and notice a few of the pumps you like have an "insurance upgrade" badge? This little tag lets you know that the product is part of a custom package that includes a bundle of supplies you wouldn't get with the "regular" pump option!
How upgrades work
Good news, money-savvy mamas, most insurance plans completely cover the cost of breastfeeding support and supplies necessary for pumping. However, many moms find that they end up needing additional accessories to make pumping more comfortable. This is where an upgrade package comes in super handy!
The Evenflo upgrade option
This month, we're featuring the Evenflo Deluxe breast pump upgrade. In addition to getting an awesome Evenflo double electric breast pump, you will get a stylish black shoulder bag, an insulated cooler bag with ice packs and additional milk storage bottles. Want to know our favorite part about this upgrade? It's only $25 more than the standard pump package!
Want to know what else is included?
1 - Advanced Double Electric Breast Pump
2 - 30.5mm Flange Kits
2 - 24.5mm Soft Flange Inserts
2 - 28mm Soft Flange Inserts
4 - 5 fl. oz. Milk Storage Bottles
2 - Extra Valves & Membranes
1 - Pump Shoulder Bag
1 - Insulated Cooler Bag
3 - Ice Packs
1 - AC Adapter
Breastfeeding Guide Card
Instructions to Access Simply Breastfeeding and Breast Pumps & Briefcases Programs
Instructions for Use
With your pump, you will get free access to two practical and proven programs on breast pumping. Both Simply Breastfeeding and Breast Pumps & Briefcases tutorials have helped thousands of moms successfully breastfeed and continue breastfeeding while returning to work.
Bargains, free shipping, and beyond!
Aeroflow Breastpumps offers upgrade options for many of our popular pumps, as well as bargains on all the Evenflo breastfeeding supplies you might need! Aeroflow's pump upgrades have a small fee but are still way less expensive than purchasing through a big box store. We can also help you purchase accessories using HSA/FSA funds. Shipping is free, and the process is quick and easy — so let's get started!