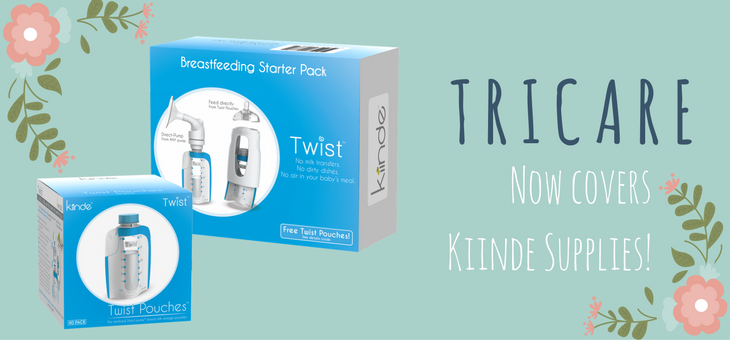 Attention Tricare mamas! With healthcare costs so high these days, you want to make sure you're getting the most for your money, right? Pack on the other costs of having a baby — from preparing the nursery to purchasing a crib, life can become very pricey with a little one! Aeroflow Breastpumps knows that all too well, which is why we're helping Tricare moms get the most bang for their buck!
Aeroflow Breastpumps & Kiinde
Aeroflow Breastpumps has partnered with Kiinde to provide the Kiinde Breastfeeding Starter Pack and Twist Pouch direct pump breast milk storage pouches. If you qualify, you could get the storage bags every month for up to 36 months after delivery. Yes, that's right…a whopping three whole years! The best part? Aeroflow will ship the items for free. Not a single dime out of pocket. All it takes is a couple of clicks on your computer and confirmation of your address and your pouches are on their way.
Wondering what's included in the Kiinde Breastfeeding Starter Pack and Twist Pouches?
Check it out — all of this comes with your resupply kit:
2 x 40 packs of Kiinde Twist Pouch Direct-pump breast pump storage pouches with twist locking caps
2 direct-pump adapters (standard – Medela, Ameda and Evenflo)
2 direct-pump adapters (Spectra, Avent)
1 Squeeze natural feeding bottle
1 Slow-flow Active Latch nipple with case
So, What Is the Kiinde Feeding System?
If you haven't heard of the Kiinde feeding system, your pumping journey is about to change for the better. The top rated Kiinde feeding system allows you to pump directly into milk storage bags as you pump. The good news is they include adapters for the most popular breast pump brands on the market so you can be sure your pump is compatible. Transferring milk from storage containers to bottles, from bottles to bags, etc. can be a real pain, and it means more time spent in the sink for you. This is where a Kiinde system can save you time, money and energy!
You can rest assured that there will be less time spent washing parts if you use the Kiinde feeding system. You can even attach the slow flow Active Latch nipple onto the twist pouches so can feed your little one directly after pumping. The natural feeding bottle is also a big hit. All you have to do is throw your thawed milk pouch in it and boom, you are ready to feed!
Tricare moms, Aeroflow Breastpumps has your back!
We know pumping can be a tough, stressful journey, and the Kiinde setup can truly help make setup and cleaning less of a hassle. From putting together your pump to hunching over the sink washing parts, the Kiinde Breastfeeding Starter Pack and Twist Pouch direct pump breast milk storage pouches make pumping a breeze.
Wondering about your military discount? We didn't forget! Aeroflow Breastpumps offers a 15% storewide discount for active, reserve and retired service members. To receive your special military discount code, simply send us an email for all the details.
Want in on a little secret?
When you are done breastfeeding, you can use the twist pouches to store pureed food. Forget spending hundreds of dollars a month on those expensive, organic pureed food pouches!