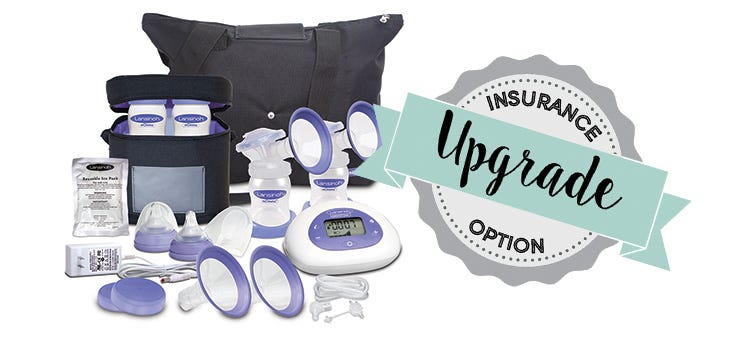 We're excited to announce our newest breast pump upgrade package: the Lansinoh Smartpump with Tote! This new upgrade option not only comes with the Smartpump, a mom favorite, it also includes a tote and a bundle of accessories to make your life easier when starting your pumping schedule.
All about the new pump + tote
The Lansinoh Smartpump with Tote is the ultimate on-the-go pumping accessory for tech-savvy moms. The spacious and stylish tote can store the Smartpump, pumping supplies and your personal accessories — all in one organized bag. Also included is the cooler bag and ice pack that keeps your breast milk cool when you're pumping away from home.
With the new Lansinoh Smartpump upgrade you can now get everything you'll need to start pumping, plus a bag, all in one easy order! What are the perks of getting an upgrade, you ask? You will get 2 additional 5oz Lansinoh® mOmma® Bottles, 2 additional storage caps, 2 large ComfortFit™ flanges (30.5mm), 2 Lansinoh® mOmma® NaturalWave™ Nipples with and caps, 1 tote bag, 1 cooler bag and an ice pack! That's a lot of bang for your buck!
Everything you get with the upgrade package:
Lansinoh Smartpump Double Electric Breast Pump
4 - 5 oz. Lansinoh mOmma Bottles
2 - Breast Flange Bodies
2 - Collars, diaphragms, and sealing discs
2 - ComfortFit flanges (25mm)
2 - ComfortFit flanges (30.5mm)
4 - White valves (2 extra)
2 - Bottle Stands
4 - Storage Lids
3 - Silicon Connection Tubes
1 - Smartpump Tubing Y Connector
1 - Smartpump Pump connector
1 - AC Adaptor
1 - Tote Bag
1 - Cooler Bag
1 - Ice Bag
2 - Lansinoh mOmma NaturalWave Nipples with caps
Pump manual with everything you need to know to get started
Don't hesitate to order your Smartpump upgrade package today — it's full of items moms love and recommend. Let us know what you think about your upgrade in the comments below!