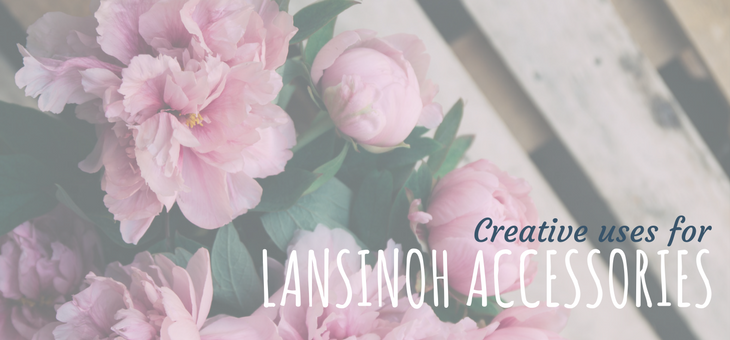 When I was adding to my baby registry, I really had no idea what I was doing. What all I do I need? What size diapers do I get? What kind of bottles are best? Crib or bassinet? Those were just a few questions running through my head. Luckily, I had five sister-in-laws and an overly excited mother to help guide me through the process. I made it out with everything I needed, wanted and more.
One of my biggest issues was deciding on what brand of breastfeeding accessories to get. One of my sister-in-laws mentioned that I had to try out Lansinoh's products, so I stocked up. As the gifts poured in, little did I know that some items I got had multiple uses — a blessing in disguise!
Lansinoh Lanolin makes for an excellent chapstick
When I started breastfeeding, I had the worst cracked nipples. Thank goodness for Lansinoh's HPA Lanolin. This stuff rocks. It is 100% natural so you don't even have to wipe it off your nipples before nursing — making for one less thing to do! Not only is this lanolin an amazing remedy for dry, cracked nipples, it's also one of my favorite cures for chapped lips!
I know it might sound a bit odd at first but think about it... if this stuff works wonders for aching, cracked nipples, then just imagine how good it feels on dry, chapped lips. My family and friends know that I'm addicted to chapstick. Got chapped lips? I'm your girl. I am known for carrying multiple tubes of chapstick with me at all times. Who likes chapped lips anyway? Needless to say, the Lansinoh HPA lanolin is a staple in my purse!
TheraPearl hot/cold relief to soothe pain
If you are nursing and have not tried Lansinoh's TheraPearl 3-in-1 Breast Therapy Packs, you need to jump on the bandwagon. Not only can these packs be heated up in the microwave to help with your milk let-down, but they can also be chilled to help with pain due to engorgement or sore nipples. They are super easy to clean and are reusable so they are a great investment if you plan on nursing.
One nifty trick my husband and I learned quickly about these packs is that they are the perfect size to act as ice packs for boo-boos for our other children. Who would have thought? Plus, they can be easily kept in the freezer because they don't take up a lot of room.
Soothies pads for burns
My hands down favorite Lansinoh breastfeeding accessory has to be their Soothies Gel Pads. These things are a lifesaver for aching nipples. Immediately upon placing them on your nipples, they offer cooling relief. The gel pads are also good for treating burns and chafing. I remember when my husband burned his finger on the stove and cold water just wasn't cutting it, I grabbed a Soothies gel pad and he felt instant relief. The uses for these accessories are endless!
Moms, what breastfeeding accessories have you found alternative uses for? Let us know in the comments!