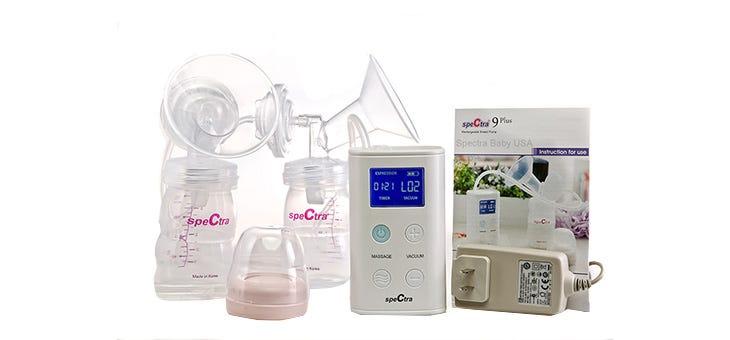 Pumping mamas, are you looking for the perfect breast pump? You're probably thinking, "Oh please, the perfect breast pump doesn't exist." Believe it or not, it does, and it is called the Spectra S9. The Spectra S9 pump weighs only one pound and can easily slip into a diaper bag or backpack. It is so small it can fit into most medium sized handbags also. The S9 is the slimmest pump on the market right now.
Slim, portable, rechargeable
The days of carrying around a hefty, oversized breast pump are over…woohoo! Not to mention, many of those bulky breast pumps require that you be near a power outlet to use it. Who has time for that? That is not the case for the Spectra S9. While the pump does include an AC adapter so you can have the option of plugging into a socket, it is known for its internal rechargeable battery so you can pump whenever, wherever. With a battery life of between two and three hours, you don't have to worry about it dying on you when you need it the most.
If you are a stay-at-home mom, imagine the convenience of being able to pump anywhere around the house without being tied up to a pesky power cord. Plus, you can pump in the car while out running errands or taking other siblings to and from school. Nowadays, between errands and extracurricular activities, stay-at-home moms are out and about just as much as working mothers. The Spectra S9 is ideal for all types of moms.
Customize every pumping session
Not only is the Spectra S9 the model breast pump for busy mamas, but is also made for moms who want to be able to customize their pumping settings with one touch. It has 2-phase cycling, a let-down button and an expression mode so you will be able to regulate your pumping settings to your needs. It also has an LCD digital display too with two different levels of lighting, which is perfect for those late night pumping sessions.
One of the best features of this pump is how quiet it is…the hubby won't hear a peep as you are pumping away in the bed, and your coworkers won't have a clue when you are pumping at work. Many mamas like the comfort of skin-to-skin contact that breastfeeding offers so if you like to nurse on one breast and pump on the other, you are in luck with the Spectra S9, as you can single and double pump.
See if you qualify for an S9 through insurance
Having a new baby means lots of new worries and stress, especially if it is your first child. You don't have to be uneasy using the Spectra S9. With its closed system, the Spectra S9 is extremely safe for baby as the breast milk is shielded from harmful bacteria and viruses so you can be worry free as you pump. Ready for the most exciting news about this pump? You could get it free through your insurance plan thanks to the Affordable Care Act. Stop wondering where you can get yours and see if you qualify today!