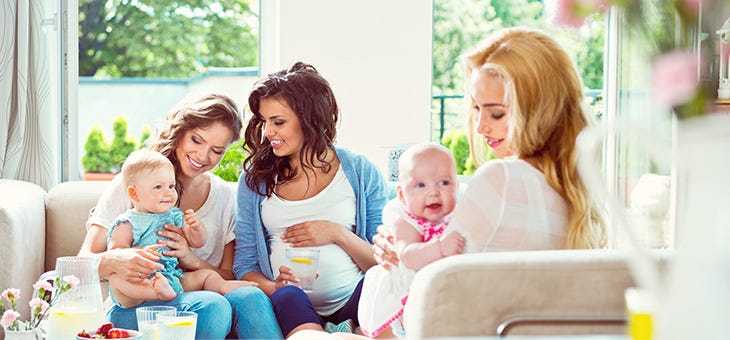 What comes to mind when you hear the words "breastfeeding coalition?" Maybe an army of breastfeeding moms armed with lanolin and nipple pads ready to take over the world? If that is what you were thinking, then you are not far off. In reality, a breastfeeding coalition is an alliance of breastfeeding mamas, their families, doctors, healthcare providers, employers, government entities, and the public all with the same goal and that is to promote and support breastfeeding.
What does a breastfeeding coalition do?
Not only do breastfeeding coalitions work to maintain rights and regulations for all breastfeeding mamas at work, school, home and various places within your community, but they are also there to be a resource. A coalition can help you find a lactation consultant in your area, aid in helping you discover a coalition local to you, and even offer tips and tricks on successful nursing and pumping for you and your little one. Their goal is to help normalize breastfeeding across the country and to make moms feel safe and comfortable breastfeeding wherever and whenever.
Find your local coalition today
Want to find out more? Locating your state breastfeeding coalition could be the gateway to all the breastfeeding knowledge you have been searching for. They even have a national breastfeeding coalition conference each year. This year will be the seventh year that the group has met, and the event will be held in the great state of Virginia from August 4th through the 6th. Interesting enough, Breastfeeding Advocacy Day is the following day! Click here to learn more about the breastfeeding coalition in your state.
ACA coverage for breastfeeding moms
Speaking of pumping, did you know you could get a free breast pump through insurance? You can thank the Affordable Care Act for that! The Affordable Care Act provides legislation that ensures women can receive free breastfeeding support through most insurance plans. While the coverage varies by insurance plan, the majority of plans will allow you to get an electric pump at no cost. If you are wondering how to find out if your insurance will pay for pump, go ahead and leave all the hard work to Aeroflow Breastpumps. Your Breastpump Specialist will not only check on your insurance to see what they cover, but if your insurance does pay for a breast pump, they will help you pick the perfect pump and ship it to your home for free.
Aeroflow Breastpumps understands you want to give your little one the best and that owning a breast pump can help you achieve that goal. If you have a "grandfathered" insurance plan that excludes breast pump coverage, Aeroflow Breastpumps will give you 15% off discount on a breast pump from their Aeroflow Mom and Baby store. They'll ship it for free too. Head online to their Qualify Through Insurance form and get started today!