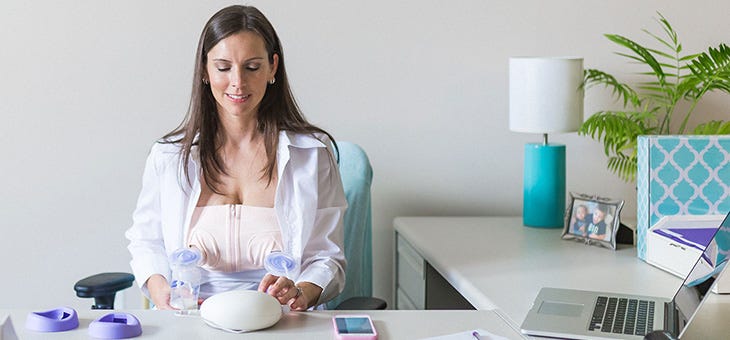 New mom Alli just began her own breastfeeding journey with her daughter Harper. Follow her story for helpful tips, awesome product reviews and a look into the life of a new mama — coming to the Aeroflow Breastpumps blog each week!
When I found out I was pregnant with Harper, I immediately saw sweet images in my head of my future baby. One of my biggest life ambitions was to be a good mom and I was finally on my way! From that day forward I was happily stuck in a daydream, pondering what my little one was going to look like and be like. Now if you ask my husband, it may be a different story. Yes, he was overjoyed at the thought of a little mini-me to watch football with on Monday nights or the thought of a baby girl being wrapped around his finger, but instead of having thoughts of picking out cute baby clothes, I'm almost positive he immediately saw dollar signs.
We all know having a baby can rack up the bills. From burp cloths to bassinets to unexpected doctor visits, the costs of a baby are endless. Plus, that doesn't even include the expenses for mom during those nine months she carries her baby. Those maternity clothes and late-night runs to the store for ice cream and pickles can really add up! That's why it was important to my husband and me to be frugal when it came to spending money. At the same time, we wanted top quality products — especially when it came to my breast pump and accessories. That's why we chose Lansinoh for all of my breast pumping needs. Not only are their products top quality, but they're also reasonably priced. If Lansinoh makes it, you can be sure I own it. If you're wondering which items were my favorites, check out my top five must have Lansinoh accessories below.
With the invention of the internet, you can spend days going back and forth researching which breast pump accessories to go with. Stop wasting your time and check out Lansinoh's products. The hype is real: Lansinoh provides excellent products without breaking the bank. More money in the bank means more money to spend on cute baby clothes and fun toys. Take it from a mama who has tried all the other brands out there…trust me, they can't compete!