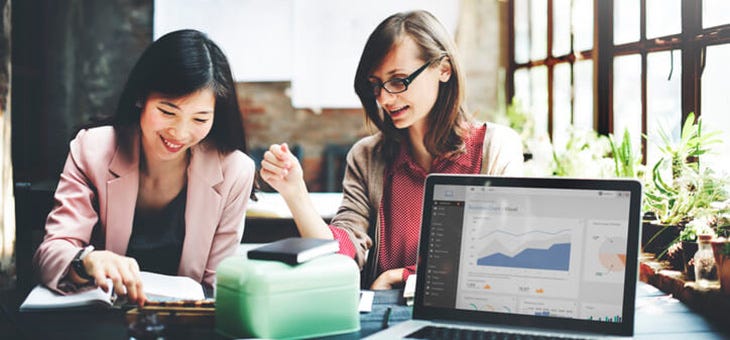 Since the beginning of time, mothers have had to find a balance between working and feeding their babies. While it is sometimes a struggle, it seems to be something that you figure out how to do, because you have to work and your baby has to eat! The pioneer mother on the prairie had a lot of other things she needed to be doing besides feeding her baby, but she still found time to do it all... and it's just as much a struggle for the modern mom to juggle feeding baby and keeping up with a household. Here are a few tips to help make breast pumping at work enjoyable and efficient — storing up a supply of breast milk while you're at work will greatly benefit your growing baby.
Bond with your baby
Before returning to work you should make the commitment that you will not give up on your breastfeeding journey. There will be days when you are ready to toss your breast pump in the garbage and buy a can of formula (keep in mind that in the event that this does happen to you, you are not a failure, you are actually super normal and that's okay). Before the separation you should have already built a connection with your baby, they call this the "babymoon"— much like a honeymoon but a lot messier! You should take as much of this time as you possibly can before returning to work. Use vacation time or any other time that is available to you. Consider taking some unpaid time as well if you are able to do so. Exhaust all efforts to be able to spend as much time with your baby as possible.
Get help from someone you trust
When you return to work it is important to choose a breastfeeding friendly caregiver. Be sure to tell your caregiver how much being able to continue to breastfeed means to you, and thank this person or facility for making that possible for you. If your caregiver is unfamiliar with breastfed babies and handling breast milk, you will need to gently educate them with understanding while being grateful that they are willing to try. Try getting them excited about being a part of this experience by sharing information about the benefits and how much they are helping with your babies development. You will need to work out a system for preparing, labeling and storing your bottles. Make this as simple as possible so the caregiver can devote their attention to your baby and not the bottles. To quickly supply breast milk to your baby, try these tips:
Freeze milk in small amounts so that it thaws faster.
Thaw the amount of milk needed for each day overnight in the refrigerator. Any milk left after 24 hours will have to be thrown out, but if your baby's milk consumption is fairly predictable, you can do this without worrying about waste.
Your caregiver could try giving your baby cold milk from the fridge, but most babies prefer it warmed up, just like the milk that they receive from you.
Get a breast pump
While you are working, your breast pump will become your best friend. Some moms don't even know that a breast pump is covered through their insurance and then they end up buying one out of pocket when they could have received one free or at a low cost to them. Try applying for an insurance-covered breast pump through Aeroflow Breastpumps before purchasing one out of pocket. Your insurance might cover a double electric breast pump like the Lansinoh SmartPump, which comes with everything you need to start pumping! Once you have received your pump, you should spend some time getting to know it before you begin a long term relationship. Pull it out of the box, read the instructions, wash the storage containers. Do anything you can to help familiarize yourself with your pump so you can pump at work with ease.
Talk with your boss
You will need to work out an agreement with your employer. You will need to talk to them about your plans for breast pumping at work and how important breastfeeding is to you. You won't want to return to work without a plan and then be desperately seeking a place to plug your pump in... and then end up in the ladies room. Develop a plan that you think will work for you and present it to your boss — include when you will pump, where you will store your milk, other special arrangements like being able to visit your baby and nurse during your lunch break. If you know other women in the office that have had this experience, reach out to them for advice.
Manage stress
One of the most important things you can do during this time is lower your stress level. You need to make sure that your baby is taken care of, but it's just as important to take care of yourself. When you get home from work you should head to the bedroom and nurse while you're lying down and resting. If you and your baby are able to take a short nap during this time, the whole family will be able to enjoy a more pleasant evening. Have a quick snack so that there is no pressure to start dinner right away and you can enjoy a few extra minutes making up the lost time of the day. If you have an older child, you should include them in this reunion. Simplify your home life as much as possible so that you're spending your time on more important things like spending quality time with your family instead of the washing machine. If you can afford it, try to hire someone to take care of these tasks for you. If you cannot afford that luxury then you should discuss with your partner how you can spread out some of these chores to other members of the house. Breastfeeding your baby and returning to work is a very big commitment, and no one is going to fault you if it doesn't work out. Using these tips and others that you may find will be helpful in making your breastfeeding journey a successful and happy time in your life.You can do this!