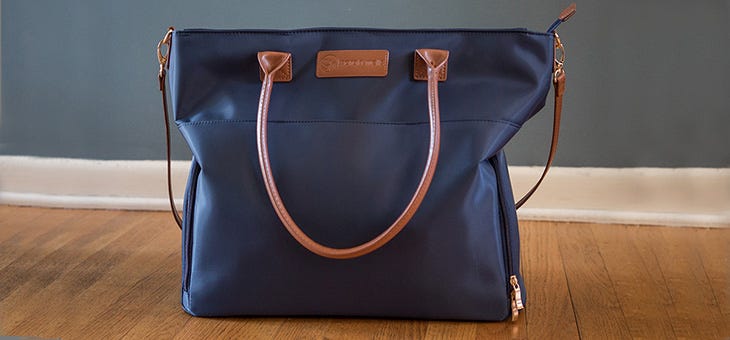 Having an electric breast pump is essential, but having a great bag to store it and all the accessories is also a must. When it was time to pick out my pump I went with the Medela Pump-In-Style mainly because of the tote/backpack it came with and I thought I was set. However, after a few times using the bag I soon realized that I needed something better. I needed a lot more space inside, better compartments, and definitely something that was more attractive. Hey, maybe even a bag that could carry my personal belongings too so I could stop being the bag lady. Then I received my Sarah Wells "Abby" Breast pump bag and a coordinating Pumparoo and it was everything I desired and more.
Sarah Wells "Abby" bag
The "Abby" Breast pump bag is an extremely sleek bag with genuine leather straps and a timeless look that will never go out of style. It is remarkably spacious inside and even has two zippered, insulated pockets on each side. On one side you can fit mostly any pump and operate it easily within the bag. Then, use the other pocket as a cooler for your pumped milk with an ice pack. Not just that, when you're not using the side pockets you can push them flat and have the full space of the main compartment. Genius!  There are also four other great compartments; an interior zip and two tufted pockets inside, and a small slip pocket on the outside for your keys and cell phone. This bag has it all. Not only is this the most convenient breast pump bag, but I just can't get over how lovely it looks. It is so well made and doesn't even look like it's for breastfeeding so it can definitely be used as a regular tote as well. Who says you have to give up your style after having a baby? Not to mention now I don't have to carry a separate purse or bag for my computer, snacks, etc. With all the great compartments I can easily and comfortably carry it all in this bag completely separated and organized.
Anchor Pumparoo
Now how could this bag possibly get any better? A coordinating Pumparoo. This little gem is a wet/dry bag that comes with a detachable mat. The mat is my favorite piece because it is just so perfect for placing all your parts on while you're setting them up or breaking them down. I was always searching for a clean spot to place all my parts on before I got this and now I no longer have to worry about germs or breast milk everywhere. Very convenient. The exterior zipper is great to store all your dry parts and the larger main compartment is waterproof. This means you can actually put the bag in the fridge in between pumping sessions with all your wet parts inside and just wash them once a day. Anything that saves time is key with a baby. Not only that, the waterproof compartment is also excellent for storing your wet bathing suit in after you're done breastfeeding. Double whammy. I could go on and on about how much I love these Sarah Wells bags, but honestly, you've got to just get one and try them for yourself. I'm absolutely certain that you will fall in love with how fashionable, durable, and incredibly functional they are. Not to mention this is a mom-owned company! Doesn't get any better than this mamas.   Nadia is a new mom and runs a blog, Wander & Dwell, featuring articles on motherhood and more. Being a modern mama herself she loves to share her experiences and tips on how to raise a kid in this new age. Find her on Instagram@wander_and_dwell.