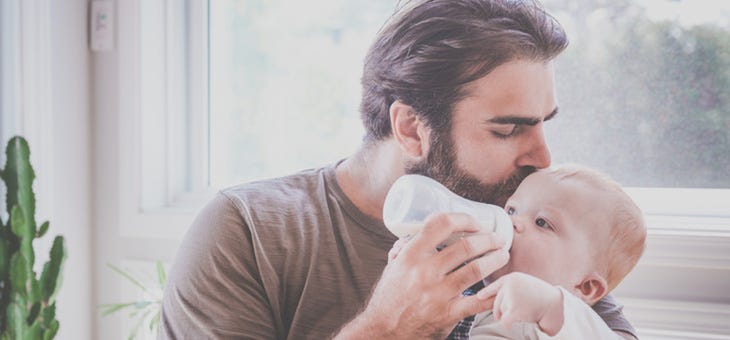 Dads, did you know there are tons of ways to help out when it comes to feeding your newborn? There is always a learning curve, but this is a great time to find what works best so you can help feed baby when mom needs a break.
Work as a team
Breastfeeding and pumping should be seen as a team effort — studies have shown that moms who feel more supported and helped by their significant other will breastfeed for a longer time and will generally be more successful on their breastfeeding journey. Dad can help if mom is returning to work to aid with building her breast milk supply, which makes it easier for her to be away for normal work hours and still be able to keep baby full and happy. Dad can also track how many ounces baby consumes and document feeding times. When dad is able to help with breastfeeding, mom can reap some of the rewards too — a little extra sleep, an afternoon out with friends or a trip to the spa can make a world of difference for a new mama!
Cheer eachother on
Communication is key for a successful time with breastfeeding. We have gathered some tips to help dads encourage mom during her breastfeeding journey.
Words of encouragement are extremely beneficial for a new mom. Everyone is tired and frustrated, but talking about what mom needs to be successful is great! This makes things a lot easier and can create a more solid routine.
Be a united front about both wanting your newborn to be breastfed. Everyone has their opinions and often feel like they need to share those opinions. If you choose to breastfeed, both parents should be able to understand the benefits of breastfeeding and be able to support their decision confidently!
Be present for feedings, especially in public, showing that this is normal (and bystanders should act as if it is normal).
Saying "can I get you anything?" is pure gold. Helping mom relax during feedings or pumping sessions can aid with stimulating milk production which leads to more successful breastfeeding sessions!
Get educated
Understand how breastfeeding works. Partaking in prenatal and consultant appointments makes the real life situation less daunting and frustrating for moms and dads. A lactation consultant once noted the huge success she saw when she added more dads into workshops — she realized that moms focus more on nipple position and baby's latch, but not the overall position, which is what dads sometimes have an easier time noticing. Mom and dad can work as a team to make sure mom is in the best position possible to feed their newborn.

Help out with household chores
Dads, when mom is busy with feedings or pumping, look to helping around the house or helping keep older siblings on schedule. This will create a happy environment for the whole family! Here are a few ways that dads can help take the stress off of a breastfeeding mama:
Laundry and dishes continuously add up and can cause anxiety for everyone who sees the mess. Go ahead and take care of that pile of dirty clothes, and stack the dishes in the dishwasher. Everyone will thank you!
Hang out with the older kids. Whether they need help with schoolwork or a ride to soccer practice, pitch in and help so mom is able to maintain focus to have a good pumping session.
If mom is pumping, there is a process to cleaning and sterilizing the breast pump. Dad can always step in and handle sterilizing pump parts, keep track of the milk stored and help research which pump and pumping accessories will work best for mom.
When moms use a breast pump, dads are actually able to help feed their newborn. While mom is at work, dad can step in and bottle feed breast milk! This is also great for bonding time for dad and baby.
Dads can always help mom with their newborn and feedings. From handling more around the house to actively working with feeding schedules, making sure your newborn is getting a healthy amount of milk is a great way for mom and dad to maintain teamwork! Being supportive with words of encouragement will keep mom feeling positive and successful throughout the breastfeeding experience.