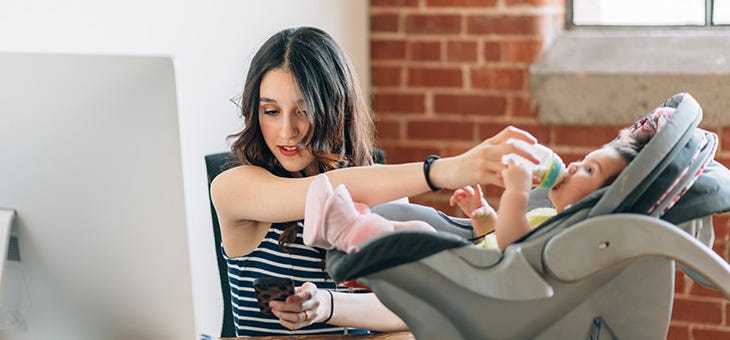 If you're clueless when it comes to hands-free pumping, you can thank Aeroflow Breastpumps later. Hands-free pumping bras and tanks can be a serious saving grace for new moms. With all of the parts you have to lug around, the cleaning, and the fact that you may or may not be tied to your pump around the clock, pumping is hard enough as it is!

What is hands-free pumping?
Hands-free pumping is exactly what it sounds like — you're able to pump without using your hands, giving you the ability to get other tasks done at the same time. From working to stay at home mothers, hands-free pumping is ideal for all types of moms. Finding which hands-free pumping system works for you is easy:
The most cost effective solution is called the "hair elastic technique," which may not be the most durable technique, but will definitely save money because all you really need is four elastic hair bands and a bra.
The most popular hands-free pumping system is the hands-free bra or bustier. Medela makes the Easy Expression Bustier, which is specifically designed to fit the breast shields and allow you to pump hands free. The bras are relatively inexpensive and fit under your clothing. Colors are available in black or white.
You can also make your own hands-free pumping bra by cutting openings into an old sports bra.
The Freemie is another hands-free pumping technique that has become increasingly popular as it does all of the hard work for you. You can actually pump without having to take any clothing off.
Don't forget your breast pump
While you are checking out Aeroflow Breastpumps' online store, don't forget to fill out the quick Qualify Through Insurance form to see if you can be one of the thousands of moms across the country who get a breast pump for free through insurance. The Affordable Care Act enacted in back in 2010 requires most insurance plans to pay for the costs of breastfeeding support and supplies, which for many includes a double electric breast pump. Plus, Aeroflow will ship it right to your front door at no cost to you and your family. Aeroflow Breastpumps carries all major breast pump brands on the market including Medela, Spectra, Ameda, Hygeia, Lansinoh, Nuk and Evenflo. With all of the costs associated with having a new baby, wouldn't it be nice to have something for free that normally costs a couple of hundred dollars? Aeroflow Breastpumps thinks so too! Take advantage of the benefits under your health insurance plan and take the steps toward getting your free breast pump today. No insurance? No problem. Aeroflow Breastpumps has pumps available for purchase with extremely competitive pricing. If you have already had your little one, a Breastpump Specialist can be reached for immediate assistance at (844) 867-9890.