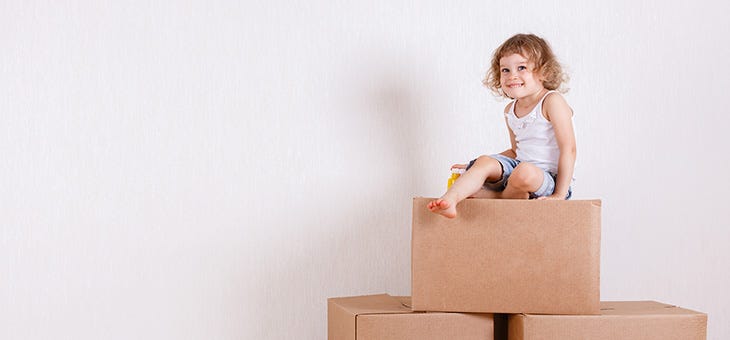 Moving can be challenging. Organizing, scheduling and packing while navigating pregnancy or caring for your new baby can seem like a crazy challenge to take on. While it might seem daunting, moving homes while pregnant or with a newborn can be an amazing experience for your growing family. We offer some great tips to help moms and dads move homes smoothly — after all, this is an exciting time and should be a positive experience for everyone!
Pregnancy precautions
If you are pregnant, there are certain factors to consider when moving apartments or homes. Heavy lifting is not safe for a pregnant mom — remember to always take it easy and listen to your body. Tips for pregnant moms when moving homes:
Ask for help with lifting anything that might cause you to strain your back (even if you think it won't).
Start early — as soon as you know you're moving, start packing.
Pack the rooms you don't use as much first — this is a great start and keeps you motivated.
Make a list of everything you need (boxes, tape, packing peanuts).
Make piles of what you want to keep and how you want it stored.
Make sure to throw out things you don't need anymore for your new home. This gives you more space and less stuff to move.
Take plenty of breaks to make sure you don't over tire. Stress will be a big factor.
Keep things easy and flowing, and again, always reach out for help if it becomes too much!
Moving homes with a newborn
Moving with a newborn is a little different, and can cause more difficulty with your plus one! On top of learning a new schedule with your newborn, the struggles of packing can become a daunting task. Tips for moving with a newborn:
Look to childcare during the move — this will help keep baby's stress levels down while you transport everything to the new house.
Get help from a family member or friend — someone can be around to help with baby while mom and dad take care of the house, or even grab a nap!
Decide on your moving and cleaning services ahead of time — this will save time. (Make sure you use a company that is reliable and affordable).
Moving tips for growing families
With moving, there are general things to consider that will make the transition a little easier on you and your family.
Pack an overnight bag. It is easier if you set items to the side — this way you have everything together and in a central location. Adding in toiletries, snacks and everything your newborn will need over the next few days will smooth things over until you get everything situated with the move.
If you have older children, make sure to do a "run through" of the old house with them. This lets them take a trip down memory lane and helps them cope with feelings about moving homes.
Get your older children excited about the move — a feeling of excitement will give them peace of mind. Give them tasks that make them feel involved and reward good behavior! This will make everyone feel accomplished.
Keep organized and stay focused with a timeline. Completing everything on time makes the moving process less stressful.
Stay positive! This will help keep moods up and keep you motivated to finish unpacking.
Mom and dad should take the time to be excited for this new change for their growing family! Remember your older children need time with you during this difficult time. Change can be hard, but it is also rewarding to make new memories for your growing family!