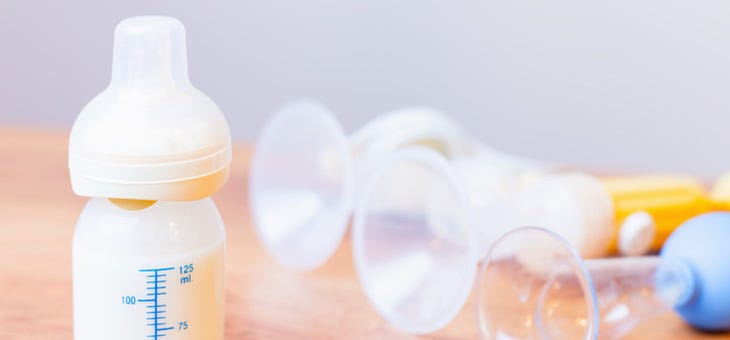 In the past few years, BPA has become a serious concern for many moms. BPA is a chemical component found in certain epoxy used to construct plastics which are known for being used in construction and electronics like compact discs. Studies have shown that consuming this chemical component is toxic. These plastics can be found in everyday products, including baby bottles. The perks of using BPA-free products for your baby include a healthier environment and helping to keep your family safe from harmful chemicals.
BPA-Free = Healthy Baby!
There are several benefits to using BPA-free storage bottles:
They offer a longer shelf life for stored food items, which is great news for babies! For milk or for formula use, this helps with storing and heating milk and allows mom to feel confident she is feeding her baby safely
You can use BPA-free glass bottles over and over again
You can heat BPA-free bottles worry-free — heating products with BPA causes the chemical to leak out
BPA-free products are good for the environment — after disposal, they don't leak harmful chemicals into the earth
Dangers of BPA
Health officials have recently recommended that moms steer clear of using BPA products for the safety of their children, even if it's only as a precaution. When you go to heat milk in a container that includes BPA, the chemical is released into the container, which means your newborn is consuming chemicals used for making plastics. Obviously, this is highly toxic for your baby, as the infant body cannot properly digest the chemical compound. Even a very small amount of BPA can cause lifetime health problems; BPA is linked to depression and type 2 diabetes in some studies.
Other Concerns with Plastics
While it's important to ensure your baby bottles are BPA-free, some studies have shown that this isn't the only dangerous chemical hiding in plastics. The dangers of other chemicals in BPA-free plastics (BPS and BPF) might be just as dangerous. It's important to do your research when purchasing plastic bottles for baby.
Do What's Best for Baby
Moms and dads, it's important to be attentive to the chemicals that come near your little one — they are trusting you to know what is going to be good for them. To ensure that they stay safe from harmful chemicals like BPA, look into what is being added to their bottles or any container that you use to store their milk or food. BPA is steadily becoming a thing of the past when it comes to food storage containers, as many vendors are marketing their containers and bottles as BPA free to ensure a healthier lifestyle. That being said, you should always be aware of what chemicals are coming near your baby — especially near the containers they use to eat or drink from. Purchasing BPA-free milk collection bottles or storage bags makes one less worry for mom and dad to have in their busy lifestyle with their growing family!