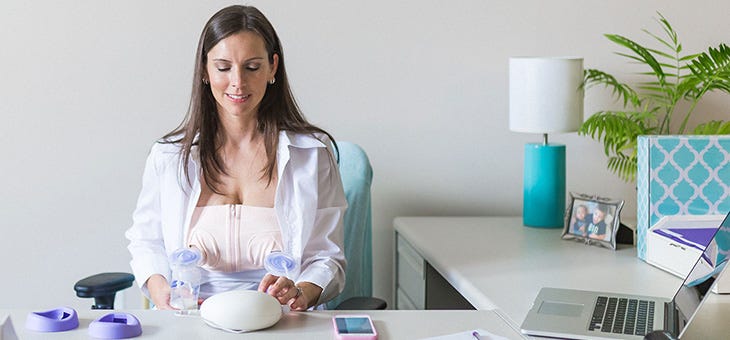 Many new moms find it difficult to track everything related to their baby's health — keeping careful note of everything from diaper changes to feedings to milk supply can be a lot to handle! This is where the Lansinoh Smartpump comes in to save the day. The Smartpump uses Bluetooth technology to connect to your smartphone and can record all the details of your breastfeeding experience to keep you and baby on track. All you have to do is type in a few details about your pumping session and let the app make colorful graphs that display your progress.
No more notebooks full of feedings/diaper changes!
The free Lansinoh Baby app tracks every feeding (via breast or bottle) and combines the data in a graph that can be printed in PDF form to send to your baby's doctor. In addition, it records baby's growth and tracks diaper changes to ensure your baby is healthy. Even better, the app will send encouraging reminders right when you need them! With all of these great features, keeping track of your baby's progress couldn't be easier. Did we mention the app is completely free? It is even compatible to use with any breast pump to track sessions and baby's growth — moms using any style of breast pump will find this app helpful to keep everything in order. The app has articles with helpful tips to get the most out of your pumping sessions, as well as advice on safely storing breast milk and transitioning back to office life. These encouraging articles are great reading material during pumping sessions!
Smartpump features
The Smartpump is packed with awesome features that make it stand out. It is one of the only pumps to offer three pumping styles and eight adjustable suction levels — this means you can customize your pumping experience to exactly fit your needs, even if your needs change daily! The closed system design reduces the number of parts you have to clean after each session and prevents any milk from entering the tubing. This is a feature that many moms love because the pump remains sanitary and safe session after session. The Lansinoh Smartpump is super lightweight at less than a pound, making it a great option for on-the-go moms. It also features an extremely quiet motor so moms can pump while they're out without making lots of noise.
Benefits of the Lansinoh Smartpump
Lansinoh has truly designed an efficient breast pump that hits all the marks. The innovative technology works to mimic baby's natural feeding patterns with a two-minute rapid release followed by a let down phase to ensure mom is extracting as much milk as possible. The LCD screen displays the exact cycle and suction level that mom is on so she can adjust her comfort level easily and quickly. The screen also has a timer to keep track of each session! With the Smartpump you will get the confidence to pump free of hassle or discomfort. All parts are BPA and BPS free, which allows you to feel secure knowing that there are no harmful chemicals near you or your baby.

What's Included
Lansinoh Smartpump Double Electric Breast Pump base unit
4 5oz Lansinoh mOmma® Bottles
2 Lansinoh mOmma® NaturalWave Slow Flow Nipples, Collars and Caps
2 Breast Flange Bodies
2 Collars, diaphragms, and sealing discs
2 ComfortFit flanges (25 mm)
2 ComfortFit flanges (30.5 mm)
4 White valves (2 extra)
2 Bottle Stands
4 Storage Lids
3 Silicon Connection Tubes
Smartpump Tubing Y Connector
Smartpump Pump connector
AC Adaptor
Tote Bag
Cooler bag
Freezer pack
Pump manual with everything you need to know to get started
Qualify for a Smartpump through Insurance
To see if you Qualify through Insurance for a new Lansinoh Smartpump, visit our Qualify Form today. All you need to do is provide some basic information and a dedicated Breastpump Specialist will verify your insurance benefits and call you to discuss your options. Get started today, and a Lansinoh Smartpump could be yours!