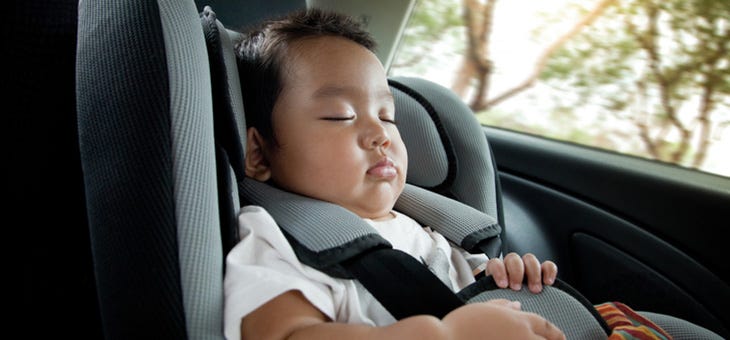 Fall is a great a time for travel — with cool weather inching in and the hints of the holiday season all around, you might begin to crave adventure. For parents with a newborn, things can get frustrating or confusing when it comes to knowing what to bring to cater to your infant's needs. While it might be a bit more challenging to travel with your new baby, especially if you are using a breast pump regularly, there are lots of great tricks to help make things run smoothly. Don't let a newborn deter you from traveling this fall!
Perks of traveling with baby
Traveling with an infant has some great perks.
The power of the stroller. Infants aren't walking yet, so keeping track of where they are at all times is definitely a lot easier in comparison to toddlers who tend to explore (often in the worst places, like the airport!)
On many airlines, infants under the age of two are permitted to fly for free. If you fly on an airline that allows baby to fly for free, mom and dad end up having a little extra spending money! (Just remember to bring a government-approved car seat for safety)
Breastpumping & travel checklist
Breastpumping while traveling can seem like a nightmare. Making sure you're not forgetting any parts or have enough bottles can be stressful for first-time travelers. A checklist can help keep everything organized and will allow you to organize your supplies and needs prior to leaving your house.
Major things to add to your travel checklist:
Breast pump (Consider a lightweight on-the-go pump like the Medela Pump In Style Starter Set)
Breast pump parts and accessories (You can even purchase a breast pump accessory kit with everything you need to travel & pump)
If flying or going on an extended trip, you should also bring:
Battery packs and cooler sets are a must to keep your routine running smoothly. The battery pack will keep you from trying to hunt down an outlet, and the cooler set keeps you mobile with your milk because you instantly have somewhere to store your milk and keep it cold.
Accessory kit with extra parts. The extra parts are great to have just in case a valve breaks or you lose a part.
Pumping bra or nursing cover. A discreet nursing bra will allow you to multitask while pumping, and if there is nowhere secluded to pump for whatever reason, you have the nursing cover to make things a little more private.
Cleaning supplies. Bring dish soap or the specialized Medela Quick Clean soap to ensure all breast pump parts are cleaned thoroughly. If you know that you won't have access to a sink, bring cleaning wipes with you. This way you are still able to clean as you go. (Some moms even pack their supplies in a larger Tupperware container that doubles as a wash bin)
Storing breast milk while on the road
Storing techniques for traveling go back to the cooler set and breast milk storage bags. Having a properly insulated cooler with a cooling device will help until you reach your destination with a refrigerator or freezer. Pumping into bags helps to minimize space in the freezer/refrigerator, which is something to consider if you are staying in a hotel and the refrigerator is small. If you are flying, TSA needs to be notified that you have a breast pump, and you should make sure your ice packs are frozen before going through the security check.
Different airports have different security procedures that they have to follow. This sometimes means security will have to check everything thoroughly, and most likely TSA will want to know that you are carrying the pump and supplies. It's always easiest to check online before getting to the airport to ensure that everything you pack is compliant with airport security rules. If you all are traveling for Thanksgiving and have to stay in a hotel, remember to find a cool place to store your milk before you get there. This is important for mom and baby, as you can't let any of your precious milk supply go to waste! If you are staying with relatives, you will most likely have a private place to feed, a place to store your breast milk and many opens arms willing to give you a break (or a nap).
Plan ahead & you will be just fine
Traveling with a newborn can be exciting, inexpensive, and easier than most new parents think! If you are breast pumping, remember to bring all the parts and spare parts you might need. Family is a great support system for pumping and helping out with your newborn during your visit. This is a great time to see how your infant reacts to new people as well. Always remember to look at the flying rules before you embark on your trip to the airport. TSA and airports are generally more accepting than in past years as breast pumping becomes more popular, but always keep TSA informed just in case. Fall is a beautiful time to explore and visit new places. Traveling early with your new baby is a great way to start making memories with your growing family!