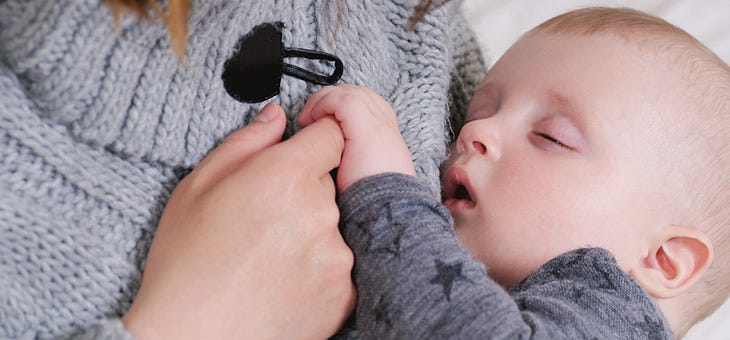 New mom Alli just began her own breastfeeding journey with her daughter Harper. Follow her story for helpful tips, awesome product reviews and a look into the life of a new mama — coming to the Aeroflow Breastpumps blog each week!
After giving birth to my eight-pound chunky piece of heaven, I was not prepared for the roller coaster ride that breastfeeding brought with it. Combined with my fluctuating hormones, it was a recipe for an emotional breakdown.
Thanks to the breastfeeding gods for Medela Disposable Nursing Pads! They were a serious game changer.
While I had already planned to breastfeed, my nurse was extremely adamant about getting Harper to latch on immediately. I felt instant pressure for breastfeeding to go perfectly like I saw in all the pictures online and the advertisements on the breastfeeding supplies I had bought. However, breastfeeding was anything but flawless for me. While my milk came in just one or two days after Harper came into the world, she was a stubborn little one and did not latch on easily like I had hoped for. After multiple visits (and hours of crying!) with the lactation consultants on shift, I finally learned some helpful positions and tricks to getting her to latch on.
However, I was not prepared for just how much milk came in. I was engorged to the point of tears. The pain was awful! I also became confused on whether or not to pump and for how long. Since milk supply is based on supply and demand, I knew if I pumped for too long, it might signal to my breasts to make more milk so I was scared of "overdoing" it. After a week or so, my milk supply finally stabilized but my breasts would still leak and it was becoming a problem.
Not only are Medela's Nursing Pads super absorbent, but they saved me from doing a lot of laundry as I didn't have to change my shirt every hour. They fit seamlessly into my nursing bras and the adhesive on the back of them was pretty strong. I never had any issues with them coming unstuck or falling out of place. I had tried Lansinoh nursing pads also but the Medela Nursing Pads were a little bit thicker and more absorbent as a result.
I love my sleep so if Harper was sleeping, I was sleeping. There were many nights when she first came home that I woke up soaked in my breast milk. Once I discovered these nursing pads, one pair could get me through the night leak free.
If you are looking for nursing pads to add to your registry, add Medela's Disposable Nursing Pads because they won't disappoint. There are so many things people tell you to get when you are expecting and let's be honest, many of them are useless. Nursing pads are one of those things you are going to want because they will become your best friend fast…that is unless you like the feeling of waking up in a wet shirt!