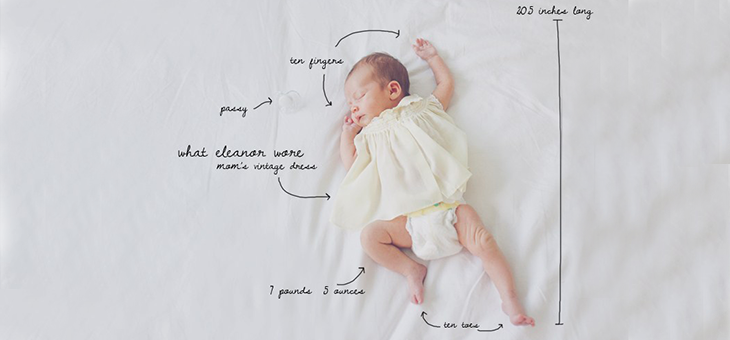 Aside from actually giving birth and looking into your baby's beautiful eyes, announcing the arrival of your little one is without a doubt one of the next best things! Check out some of these clever birth announcements that PregnantChicken put together. They will be sure to put a smile on your face.
We love this idea from Natalie-David. What a great way to show off your new baby!
My Spoiled Eggs presents us with a tiny baby mugshot.
Rattle N' Roll designs birth announcements after classic rock concert posters. You can even customize the colors and style!
For something more classical, check out Minted — their team of artists can create a beautiful design just for you and baby.
Make it Unique!
Whenever and however you decide to announce your baby's arrival is up to you — there is no right or wrong way to do it. You can simply send a picture of your little one with your baby's name, weight, and length or add your own "flair" to it, making it unique to you and your family. There are so many neat and humorous ways to reveal your child's arrival. Most importantly, just be sure to have fun designing it. Incorporate other family members such as siblings, even the furry ones if you please!
Prepare for Baby's Arrival with Aeroflow Breastpumps
Aeroflow Breastpumps has their own exciting announcement to share with new mommies. Are you ready? Their dedicated team of Breastpump Specialists can help you see if you qualify for a free double electric breast pump covered by your insurance plan! Since the Affordable Care Act requires that most insurance plans cover the costs of breastfeeding support and supplies, thousands of mothers have been able to get a free breast pump through their insurance provider. Even better, Aeroflow Breastpumps offers many fully covered breast pump options such as the Medela Pump In Style Advanced Starter or Spectra S2, and there are also upgrade packages available for purchase.
Need a Breastpump Bag or Tote?
Need a bag to store your breast pump and supplies in? No worries! Aeroflow Breastpumps has you covered. The Medela Pump In Style Advanced On the Go Tote is one of the most popular upgrade packages. It includes a sleek black tote bag, freezer bag with ice pack, and a battery pack so you can pump wherever, whenever! If you are looking for a heavy-duty breast pump, you may want to look into renting a hospital grade breast pump through your insurance. Aeroflow Breastpumps carries the Medela Symphony and the Hygeia EnRiche.
Qualify with a Few Simple Steps
If you are ready to get started, all you have to do is head on over to the Qualify Through Insurance form and a free breast pump is just a few clicks away. Once you complete the easy online form, a Breastpump Specialist will verify your benefits and go over all of your coverage information and breast pump options.
The process is simple and free! If you need more immediate assistance, give their team a call directly at (844) 867-9890. They look forward to assisting you!