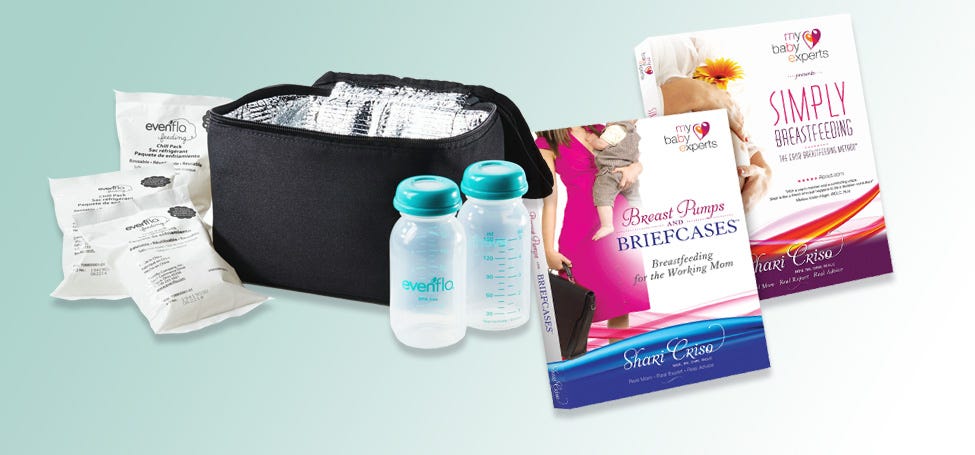 BACK TO WORK AND BREASTFEEDING WITH EVENFLO
Are you returning to work and pumping? We have some tips to make the transition easy!
You've already got your Evenflo Double Electric pump and now you're ready to pack your bags and return to the office or wherever you're headed! Being prepared to return back to your job can take a good bit of preparation, so let's check out some important accessories for your breast pump that will set you up for success.
The Evenflo Cooler Bag Accessory Kit
Don't let anything happen to that precious breastmilk with this insulated cooler bag. Ideal for any pumping mom and for only $21.99, this lovely cooler kit fits up to six milk storage bottles at once and includes three ice packs that come with the purchase of the cooler bag accessory set. Also included in your purchase are two milk storage containers that are not only compatible with your Evenflo breast pump, but they also have silicone sealing discs that prevent spills. And since these collection bottles are also compatible with Evenflo standard size nipples, you'll be able to go straight from pumping, to refrigerating, to feeding baby.
The Evenflo Advanced Breast Milk Storage Bags
If you're looking to store your breastmilk in the freezer, look no further. These 5 fl.oz milk storage bags are perfect for mom to collect, store and freeze her breastmilk. Different from other brand storage bags, these are made from a military-grade material for extra strength that resists tearing and punctures without a thicker design, allowing for your milk to freeze and thaw faster. These Evenflo storage bags are also designed with a seam that allows the bags to stand, while a double-zipper ensures the back stays sealed in storage. They're also perforated at the top to create an easy to pour spout.
Prefer Bottles over bags?
Purchase your own pack of four Evenflo Milk Collection Bottles for just $6.99. These 5 fl. Oz bottles have silicone sealing discs to protect against spills, are 100% BPA free and are compatible with your Evenflo breast pump. These bottles are both fridge and freezer safe, dishwasher safe and are compatible with Evenflo brand breast pumps.
Don't Forget the Evenflo Single Electric Breast Pump
This pump is great to keep at work for moments when you're in a pinch! Evenflo's Single Electric Breast Pump is the perfect backup with its lightweight and compact design, adjustable vacuum for comfort, removable silicone insert and 5 fl. Oz milk collection containers all in one carrying bag. This breast pump can also be battery-operated with 3 AA batteries or plugged in to use!
Our last tip? Watch the video guide, Breast Pumps and Briefcases, from Shari Criso
The video guide came with your Evenflo Advanced Double Electric Breast Pump! There are two free full-length online breastfeeding and pumping classes by Shari Criso included with your breast pump, providing you with a guide and familiarity with your breast pump before you head back into the workplace. Take advantage of Shari's knowledge and Evenflo's features to help you be successful with your pumping journey.
Good luck, mamas!