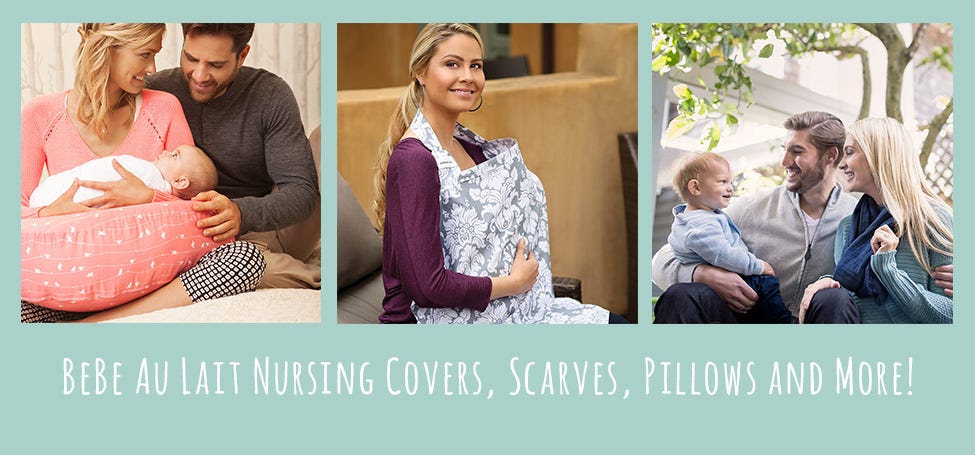 October 19, 2017
BEBE AU LAIT PRODUCTS
Created by a nursing mom, the Bebe Au Lait Nursing Pillow puts baby at the perfect height to promote a better latch. The reversible, dual-sided design gives the option of a flat, firmer surface or a plush, softer surface, to provide all the support that mom and baby need. The nursing pillow has an open shape for a better fit. It is also designed with a convenient, two-sided pocket to store all the burp cloths, breast pads and essential accessories within reach. The pillow and slipcover are machine washable for busy moms on a strict schedule. It's designed with an open shape to ensure that it fits all moms. The padded waist strap with an easy release buckle adjusts up to 44 inches and can tuck away into pockets when not in use. Slipcovers are made of 100% cotton for the most comfortable surface for baby's sensitive skin.
Perfect For Privacy While Nursing or Pumping
If you're looking for a little extra privacy while nursing in public the Bebe Au Lait Nursing Covers have a patented open neckline that holds the cover away from mom and baby which allows them to maintain eye contact so they can continue to bond while breastfeeding. The open neckline provides airflow and allows mom to see that the baby is properly latched - no more guessing games! The secure and adjustable neck strap holds the nursing cover in place giving you the confidence to breastfeed with privacy wherever you are.
Fashionable Coverage When On-The-Go
The Bebe Au Lait nursing scarves are the perfect accessory for fashionable moms. They're versatile, comfortable and made from 100% cotton. As an infinity breastfeeding wrap, the nursing scarf provides adjustable and relaxed coverage from front to back. The soft and stretchy fabric makes a beautiful accessory for mom that's easy to use and take care of. There are a ton of stylish prints and colors to choose from and they are the perfect accessory before, during and after pregnancy.
Helpful For Clean-Up
Babe Au Lait's contoured 100% cotton terry burp cloths are so soft and incredibly durable. They are shaped to fit and protect from baby's messes and are the softest, most absorbent and hardest-working burp cloths on the market. Use them as a burp cloth now and as a washcloth later - they are machine washable and made for use over and over again!
Helpful Storage Solutions
Once you've received your free breast pump covered through your insurance there are a few extra accessories that will make pumping on the go so much easier. BeBe Au Lait's Wet and Dry bags are the perfect accessory to help store your pumping kit. With two zippered pockets – one "dry" (cotton lined) and one "wet" (water-resistant) – for storing the items that you don't have the time to dry completely before heading out to your next stop. It's clear that Bebe Au Lait is the most stylish and affordable accessories brand out right now to keep you and baby protected and pretty within your new baby budget.