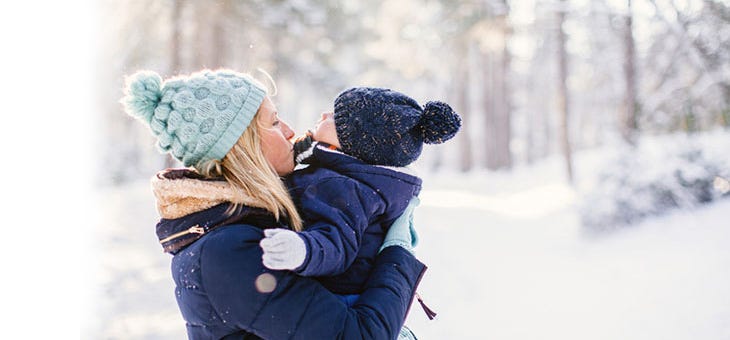 Now that the weather is getting colder every day, it is important to protect infants from cold weather elements like high winds, freezing temperatures, and snow storms. If you have been wondering how you can prioritize your infant's health while also staying fashion forward, then read on for some of the tips to help you through the winter.
Going Outdoors with Baby
First, here are a few tips to help you keep your little one safe when temperatures start to drop.
If possible, keep your infant in the house as much as possible during extreme, cold temperatures. If you must go out, be sure to dress baby in layers to prevent overheating.
Be sure to properly cover fingers, toes, ears, nose and chin. There are a variety of hats, gloves, and other cozy goods that can properly cover your baby up during the most extreme temperatures.
Ensure that there is not an additional blanket or other cover-ups under the car seat straps when riding in the car — the extra space can cause the child to slip if the car stops short or gets into an accident.
Your Winter Nursing Wardrobe
There are several items that can help a mother to ensure that she is warm, comfortable enough to nurse or pump breast milk, as well as stay fashionable all at the same time.
 These are items that can be worn at work or in more casual settings.
Nursing Scarves: These oversized scarves are lifesavers during any time of the year, but they're especially useful during colder months when you need a cozy spot to nurse your little one. The Boppy Infinity Nursing Scarf can also easily be placed over a sweater or cardigan to help you get more coverage when you feel like you need it.
Cardigans: Cardigans are great because they can transition throughout the seasons, helping you to cut your clothing budget.
Vests: A good vest comes in a variety of colors, shapes, materials, and sizes that can act as a fashion-forward accessory, even while nursing or pumping breast milk.
There really is no need to feel challenged when it comes to nursing or pumping breast milk during the winter months. Items like the Boppy Infinity Nursing Scarf along with a few added clothing items can make breastfeeding and pumping a lot easier. A few added changes to your wardrobe along with keeping in mind a few tips to ensure that your baby is safe is all you need to have a great winter.