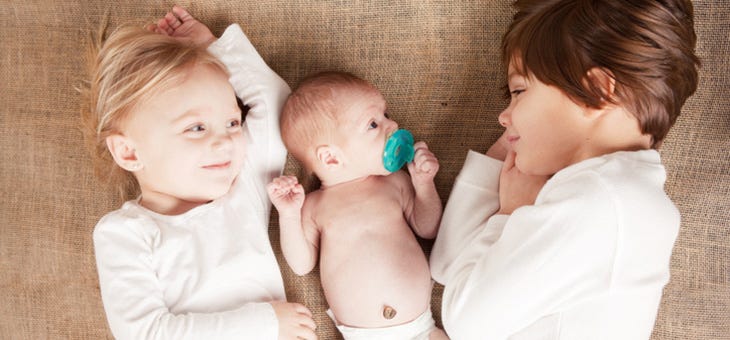 Finding out your family is growing again is an exciting time! The addition of a new family member brings joy and change to a home. Parents spend so much time planning for the arrival of their newborn, which can be difficult for older siblings to understand or accept. We share some techniques to help make life with new baby a bit easier (and a lot more exciting!) for older siblings.
Prepare for baby's arrival
During the pregnancy, your older child might ask about what's going on and present some delicate questions. The question "where do babies come from?" might be asked. Simply stating "it's growing inside of mommy's belly," might do the trick, but if your child asks more questions, there are all sorts of children's books that can help with more in depth discussions for the more curious ones. If you have friends with newborns, it might help to have your older child visit with them to have a better understanding of what life with a new baby will be like. Have your older child help look through baby names and help pack your hospital bags — this makes them feel more involved and they can start to get excited for their new playmate to arrive! Hospitals also offer sibling courses that teach older brothers or sisters how to hold a baby, explain how a baby is born, and help them express how they feel about the new addition.
Get siblings involved

When it comes time for you to have your baby, make arrangements for siblings to visit the hospital. Suggest that you introduce your newborn to big brother or sister privately. This makes for a more intimate time for family to bond without the hustle and bustle of hospital guests coming and going. Once you bring your newborn home, the adjustment period starts! Include your older child in as many activities as possible to keep them from feeling left out. Have siblings help pick out an outfit, talk to the baby while changing their diaper, bathe, or burp baby after feedings. These are all amazing ways for big brothers or sisters to help.
Feeding & nap time
Sometimes, it's okay to exclude the older kids from activities like breastfeeding or pumping. This is a special time for mom and baby to bond and form a nurturing relationship. Hang out with your older child during your baby's nap-time, or have dad trade-off for a feeding session for you to have more time with big brother or sister. Maintaining a steady routine for your baby as well as for your older children with help keep everyone happy. Transitioning to life with a new baby can be hard for new big brothers or sisters. Always make sure to spend quality time with your older child — look for good behaviors, and reward them! This is an exciting time for everyone in your growing family!