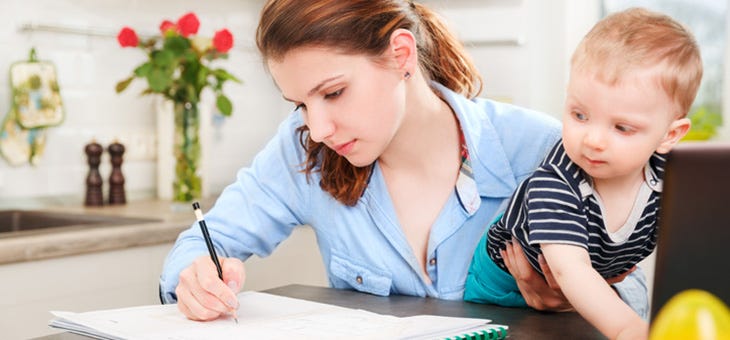 The first time you ever leave your baby after they are born is one of the hardest times you will experience as a new mom. Some people have the luxury of being able to stay home with their baby for an extended time after they give birth, but many new moms must return to work or go back to school soon after they have their baby. We provide some tips for making the return to "real life" a bit easier for breastfeeding moms!
Where to begin
I remember the first time I was separated from my son — he was 10 days old and my mom insisted that I needed a break so she took me to Babies"R"Us. I can remember the empty pit in my stomach as we pulled out of the driveway and we made it into the store for about 15 minutes before I couldn't bear the separation anymore. Every time away from my baby got a little bit easier than the last, and it will for you too. Remember that you are doing what is best for your child and keep this mindset throughout your breastfeeding experience. Here are a few things that we know to be true:
Breastfed babies tend to be healthier than formula fed babies. If you are able to breastfeed, this may cut down on the number of sick days you have to take off of work.
Breastfeeding gives you such a great feeling. You are giving your baby something that no one else will ever be able to give them — mother's milk!
Pumping breast milk for your baby can be simple and painless. There are even ways that you can get a breast pump for free through your insurance.
Many child care providers are more than happy to feed your baby breast milk. All you have to do is ask!
Support systems make a huge difference. Fathers, co-workers, teachers and bosses will be more than supportive of breastfeeding if they know how important it is to you.
Other moms are juggling the same responsibilities! Countless mothers have successfully combined work, school and breastfeeding. Find a group of moms that are also going back to school for a support system that understands your journey.
Talk to your family, friends, teachers, coworkers
It's a great idea to let the people around you know about your plans for going back to school while maintaining your breastfeeding schedule. If you tell your teachers that you are on a strict breastfeeding schedule and you will need to take a small break during class in order to do this, they are very likely to be accommodating. They might even be helpful in finding a clean and comfortable place for you to pump.
Plan for childcare
When thinking about options for childcare, it's very important to find a provider that is supportive of breastfeeding and will be willing to exclusively feed your baby breast milk that you provide. Know how to properly store breast milk — your breast milk can be kept frozen for 3-6 months, so you can pump as much as you would like and you will never run out. It can be refrigerated for 72 hours so that gives the child care facility plenty of opportunities to use your thawed milk. Leaving your baby for any period of time can be a very stressful and emotional. Taking a few extra steps before this happens can really help to eliminate as much of that stress as possible, and can make going back to school or work a great experience!