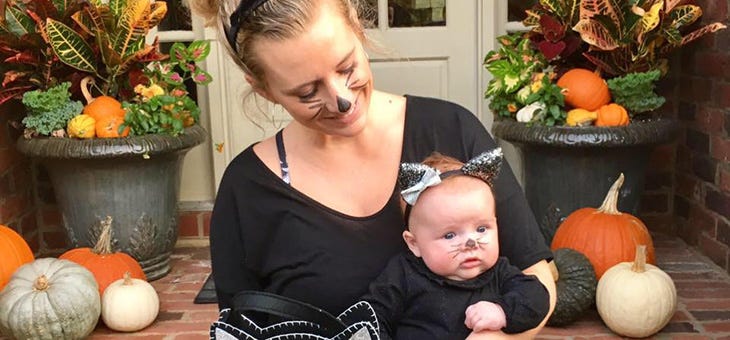 New mom Alli just began her own breastfeeding journey with her daughter Harper. Follow her story for helpful tips, awesome product reviews and a look into the life of a new mama — coming to the Aeroflow Breastpumps blog each week! 
If you ask my husband or pretty much anyone that knows me, they will tell you how OCD I am about germs. It's only gotten worse since Harper was born. "Did you wash your hands?" has come out of my mouth at least a thousand times in the last three months. I have been that new mom that makes you take your shoes off and wash your hands before holding the baby…even three months later.
I recall when my in-laws came to visit Harper for the first time, I reminded my husband at least five or six times to remember to tell his mom to wash her hands before holding her. You could tell he was a little irritated after the third time asking him, but I did struggle with some postpartum anxiety, so he did his best to be as patient as possible with me. I had no problem telling my family to rinse their hands before holding her, but for some reason, I felt like I was obtruding on his parents asking them directly.My mind was just a big ball of nerves for the first month. Luckily my nerves have calmed down dramatically in recent months, but I am still very much on top of making sure everything and everyone around Harper is germ-free!
One big issue my husband and I ran into when we were out and about running errands was Harper dropping her pacifier on the ground. We usually had an extra one or two in the diaper bag, but as much as that girl loves them, she also loves randomly spitting them out so we ran out quick.
If you're a mom, you can probably relate how important pacifiers are to a screaming baby. My mom had mentioned when it happened I could just pop the pacifier in my mouth to "clean" it but I quickly read online that you shouldn't do that. That is when I was scrolling through my Facebook mommy support group and learned about the Medela Quick Clean Breastpump and Accessory Wipes.
Y'all, the wipes are a must have in your diaper bag! They're extremely useful for when you're on the go and not around soap and water. Not only are they safe to use on pacifiers but also you can use them on your breast pump parts, high chairs and toys. I read a lot of moms use them to clean off restaurant table tops when out to eat, too. Medela Quick Clean breast pump wipes also convenient to clean off your breast shields when you're out in public and don't have access to a sink.
Another bonus is the Medela wipes are a much safer alternative than other wipes on the market such as Clorox wipes because they're alcohol and bleach free. They're also unscented — no weird smells! My favorite part is that they don't leave any yucky residue. I wish there were more wipes in a package (there's 24 in each pack), but they are pretty inexpensive so I can't complain too much. Anything that is going to keep my child from screaming her head off in public is worth it!