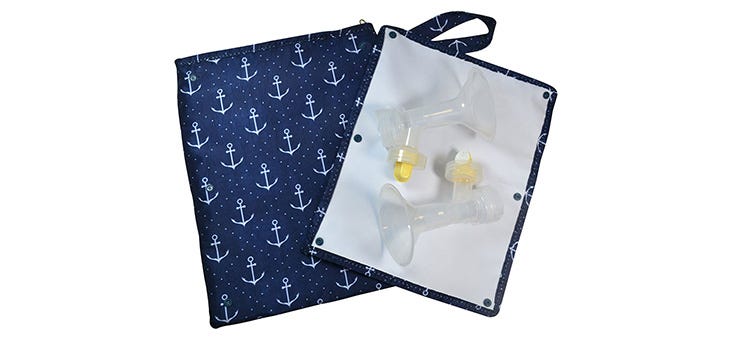 If you are a new mama, you can vouch for this next statement: breast pumping is tough. If you are an exclusive pumper then you could say it is really tough! While the nutritional benefits of giving your child breast milk trump any real negatives of pumping, being tied to a pump around the clock (new moms sometimes pump every one or two hours!), especially in the beginning, can be extremely exhausting for a mom who has just pushed out a seven or eight pound baby or is recovering from a C-section.
How do you store all your breast pump parts?
The whole process of setting up your pump parts to cleaning them over and over again can wear on a new mama's patience. Hello dry, cracked hands! To make matters more frustrating, what are you supposed to do when you don't have a clean surface to spread out your breast pump parts on? And how do you keep up with all these bulky breast pump parts? Fortunately, the Sarah Wells Pumparoo Bag was invented! This wet/dry bag is the perfect carrier to store all of your pump parts, especially on-the-go. It has a small front pouch to keep dry pumping accessories and a larger, waterproof compartment for your wet, used parts.
The Sarah Wells Pumparoo saves time and space!
Want some news that might change your life and give you your sanity back? Thought so. If you keep your parts in the fridge after using them, you only need to wash them once a day! So throw your Sarah Wells Pumparoo Bag in the fridge in between uses and forget scrubbing pump parts all day. The Pumparoo also comes with a convenient mat so you have a clean area to put together and dismantle your parts. How nice is that? It is such a pain to have to find a sanitary area to assemble and then disassemble your pump. As you probably know, pumping can get pretty messy. Fortunately, the Pumparoo is machine washable, although it is not recommended to put it in the dryer. Just lay it on a flat surface to dry. Plus, the bag is super spacious and has enough room for 4 8-ounce bottles along with all of your other pump parts.
The Pumparoo comes in cute colors & patterns
The BPA free Sarah Wells Pumparoo Bag is a perfect addition to your baby registry. It comes in some really cute colors and patterns that blend nicely with a diaper bag! If you have already had your baby, go ahead and get yourself a treat. You deserve it mama! You are probably wondering, how much does this thing cost? Believe it or not, for such high quality, the bag doesn't cost an arm and leg. It costs just under $20! It is well worth it for the sanity you'll save not having to wash your parts constantly. If you don't plan on pumping, no worries! Many mothers use it as a trendy travel bag to store other baby items like diapers, wipes, pacifiers, and extra clothes. Let's be honest, you can never have enough storage space for baby stuff.