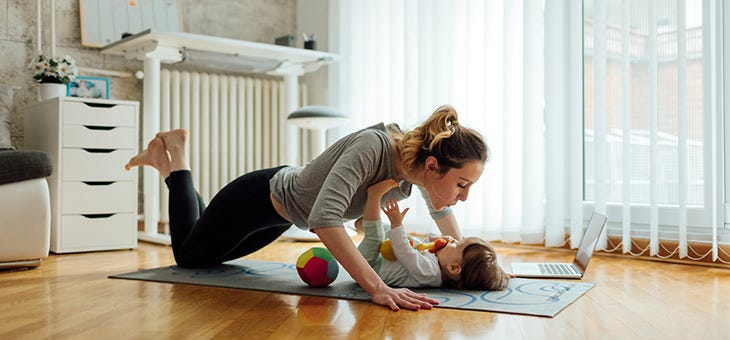 Six weeks postpartum and you have the go-ahead from your doctor to start working out again.  The physical recovery of having a baby is tough enough, but add on the rollercoaster of emotions a new mom experiences (thank your hormones!) and just the thought of exercise is a recipe for stress. Sleep deprived and without a real meal in days, you are probably lacking in the motivation department. That's where Johnson and Johnson's 7 Minute Wellness App for Expecting and New Moms comes in. You will be able to sneak in a 7 minute workout from the comfort of your home through a customized guide to meet your needs.
Benefits
There are so many benefits to the 7 minute workout. Many new moms struggle with feeling tired all the time or dealing with the pressure of losing baby weight. This app can be a lifesaver — here are a few reasons why. Exercising while breastfeeding helps:
Boost confidence
De-stress
Clear your mind
Sweat out any toxins
Enjoy time to yourself (even 7 short minutes!)
Boost energy throughout the day
Improve sleep
All of these awesome benefits make a quick 7-minute workout seem even more appealing!
Home workout in 7 minutes
While some new mamas jump for joy in their physician's office at the idea of being able to start shedding the baby weight, other new moms are not ready to leave the couch after caring for baby all day, which is completely understandable. While there are ways to incorporate your baby into your workout routine and relieve stress at the same time, like going for a walk outside, what is a mom to do on cold or rainy days? Johnson and Johnson's 7 Minute Wellness app features a series of exercises that can be done in the comfort of your own home while your baby is napping (here's to hoping your newborn is napping for at least 30 minutes at a time!). The exercises were created by Johnson and Johnson's Director of Physiology Chris Jordan, so you can be sure they are worth your time. The exercises are also customized to your particular energy level that day, so if you aren't feeling your usual self one day, no worries, the app will modify the workout to fit your needs.

Enjoy an ever-changing workout session
With over 72 exercises and 22 additional workouts available within the app, you will be able to fine tune each workout session to your liking. The workouts can be customized and mixed up to create more than 1,000 variations to keep you motivated! With all of this variety, every session becomes a little more enjoyable.
Mind and body sessions
The 7 Minute Wellness for Expecting and New Moms App also includes Mind and Body Sessions led by performance coach Jenn Lea, who is also a mother of two.
The sessions are designed to help you unwind and let go of stress. Lea will also help motivate you and cheer you on as you dive through the app. The techniques you learn during these sessions will help you achieve balance throughout your day-to-day activities. The mind and body sessions are designed with new moms in mind. Each day, you will learn techniques to create balance in your life, relax your mind and relieve discomfort in your body. The sessions are interactive and you can let your energy level guide each workout so it works for you. Interested in giving the app a go? Your body and mind deserve to be appreciated, so be sure to take care of them. Just a little bit of physical activity can make a world of difference in your life. The 7 Minute Wellness for Expecting and New Moms App is available on Apple and Android devices. Plus it's free, so if it isn't for you, it just takes a quick delete to get rid of it.